Anyone can decorate for the holiday's— swing by the local Hobby Lobby or Pottery Barn, grab a pumpkin centerpiece and a fall wreath and call it good. But this next portion of our holiday season series will show you how to get creative with DIY fall decorating ideas that you (and your festive guests!) will admire, and where you can find the crafting essentials you need right here in Irvine! Plus, Skyloft is conveniently located near plenty of craft stores like Michaels and Joann's, making it easy for you to not only grab your craft supplies, but also for finding festive decor that has already been made for you if you're in a pinch and don't have time to make them yourself! But if you are looking for something a little more hands on, here's some ideas for you:

Falling Leaf Mason Jar Candle Holder 
Bring a warm hue to any room of the apartment with these autumn leaf mason jar candle holders. Extremely easy to make and personalize, this simple fall decor adds a pop of color and warm natural lighting that will compliment the other colors and decorations in the house. Rather just buy them instead of making them? You're in luck! You can find a similar decoration here at Michaels.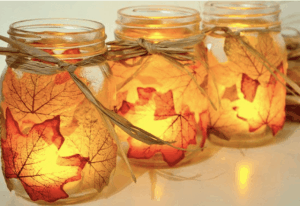 What you'll need: 
How to:
These candle holders are super simple, making them a fun DIY for the whole family. Once you have all of your supplies, place a maple leaf on the jar, dip your paintbrush into the mod podge and "paint" the leaf onto the jar. No need for a hot glue gun here! Do this with as many or as little leaves as you would like, then let dry. Tie the string or twine around the mouth of the mason jar in a bow to add a little flare. As mentioned before, this DIY has lots of room for creativity, so feel free to add glitter or other unique changes to your candle holders as you see fit! Now you can add your tea light candles to the jars and watch as the flickering of the candle light through the mason jars brings your room to life. 
Decorated Wine Vases 
We live in California, meaning that by association and location, we drink wine. Repurpose those empty wine bottles into beautiful flower vases that could make a perfect centerpiece for the kitchen table, the counter or even throughout the living room. Or, head to Hobby Lobby and take your pick from their massive selection of vases and add your favorite fall colored flowers to those. Either way you are adding an aroma of Fall to your apartment!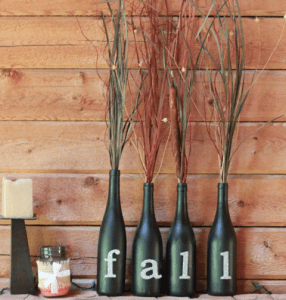 What you'll need:
Spray paint (in your desired colors and gloss texture- some suggested colors might include burnt orange, white, black, tan, brown or grey)

Wine bottles (as many as you want, but if you are spelling "Fall" or "Thankful" you will need as many bottles as letters in the word)

Newspaper (for clean up after spray painting)

Fake flowers. You can find these at Michaels, the dollar tree or a local craft store 

String twinkle lights (optional)

Twine and string (optional)

Glitter sticker letters/designs (optional)
How to:
This easy DIY decoration complimented by an autumn floral arrangement is both simple to achieve and impressive once finished! When you have your desired number of wine bottles, spray paint and fake (or real) flowers, you are ready to get crafty. Start by peeling off the labels on the wine bottles. Nail polish remover can be a huge help in removing the sticky residue from the bottle, so give that a try if the label doesn't peel off smooth. 
Once the label is off, start spray painting! You'll want to lay out plenty of newspaper, and even consider putting the bottle in a cardboard box while spraying to avoid any mess! If you plan to add letters or a design (such as a pumpkin, flower, leaf, etc.) you will want to paint the entire bottle the base color, wait for it to dry, then paint the design on top (or add your stickers). Creative tip: Use tape to add negative space in the paint by taping one strip around the bottle, spraying over it, then removing the tape afterwards.
Now that your paint has dried, add whatever additional decor you would like (such as twine or glitter) and fill your wine bottles with artificial flowers. And just like that, you're done! 
Give these festive crafts a try and let us know how your DIY's turned out on Instagram and Facebook! If they didn't go as planned, remember there are tons of places in the neighborhood, such as Hobby Lobby, Michaels or even Pottery Barn, where you can find Fall decorations that take zero assembly and are ready to use. And if you really enjoyed making these crafts, you might be interested in checking out the classes and events offered at the Irvine Joann's! Either way, keep following us on the blog here for additions to the Holiday Season Series and tips for other local shops that are great for finding just what you need.