Super Bowl 54 is just days away, and you might be asking yourself, "hmm, what plans do I have for Super Bowl Sunday?" You don't have to be a diehard football fan to ask yourself this question! Everyone knows Super Bowl Sunday is really just an excuse to get together with friends, family and neighbors to eat, drink and watch an intense game of football, some funny super bowl commercials, and a half time show that almost all of the United States is also watching. Maybe this is the year where you host a watch party in your Skyloft apartment! And if that's the case, here are a few tips to make it the best Super Bowl watch party ever.
Tip #1: Have A Large TV
This may seem like a no brainer, but for the intense football fans in attendance at your Super Bowl party (you know, the ones who will come decked out in 49er's gear or with their faces painted red and gold for the Kansas City Chiefs) having a large enough screen to see what's happening is greatly important. Plus, you'll want to be able to see all the details of Jennifer Lopez and Shakira's half time performance! Let's clear this up right away: if you don't have a TV that is suitable for watching the one football game of the year with the highest viewership and coverage nationwide, consider taking your party to a local Irvine sports bar, like Bar Louie, Buffalo Wild Wings, or even O'Connell's Sports Pub!
Trip #2: Provide Game Day Snacks
Game day snacks are another necessity when watching really any sporting event! Just one trip to the Irvine Ralphs or Sprouts should be all it takes to get a nice variety of Super Bowl food. A few staples typically include chips, dip (pita chips and spinach artichoke dip tend to be an easy crowd favorite) chicken wings, a veggie platter, and a nice meat and cheese board! If you have these staples and invite your guests to bring their favorite finger food too, you're sure to have more than enough food for snacking throughout the long game!
Tip #3: Make a Signature Cocktail
There's just something about watching football, chatting with friends and family and snacking on delicious super bowl food that screams "I need a cocktail!" In that case, we suggest that you offer a signature game day cocktail! A quick and easy cocktail that can be made "punch style" (and can even match the red on both the 49ers and Chiefs) is a tasty Cranberry Moscow Mule! All you need is vodka, ginger beer, a few limes, and cranberry juice. Easy, delicious, and matches the jerseys of both teams! That's a touchdown in our book!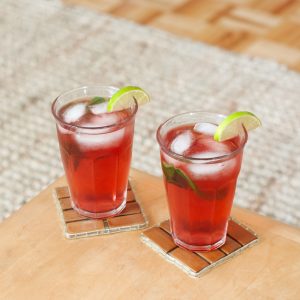 Tip #4: Decorate A Photo Booth
An easy and fun way to add a bit of party-flare to your super bowl watch party simply requires a wall and some Dollar Store decorations! Find a wall in your Skyloft apartment with great lighting, hang a backdrop of your choice (a quick and easy backdrop can easily be achieved by taping streamers in vertical rows, twisting on the way down. Then, simply provide football-related photo booth props and let your phone camera do it's magic! See the photo below for a great example of an easy and festive DIY photo booth.
The Super Bowl is a great excuse to get your friends together, kick back, watch some football and eat yummy food. Hopefully this guide helps to inspire your Super Bowl 54 watch party, and may the best team win! Share how your game day party goes with us on Facebook and Instagram, and don't forget to keep following the Skyloft blog here for more Irvine fun.