'Tis the season for pumpkin flavored everything! While pumpkin spice lattes get most of the attention when it comes to the flavors of the Fall, there are plenty other delicious fall recipes that will have you feeling cozy from the inside out. And although there might not be pumpkins outside of your favorite local grocery store anymore, canned pumpkin is all you need to make these delicious pumpkin inspired recipes, and there are various local restaurants and bars in the area that still have pumpkin inspired offerings on the menu (for those days when you're not in the mood to cook!).

Thai Pumpkin Soup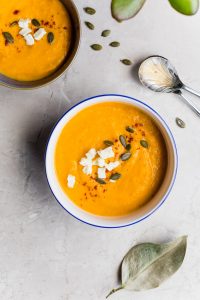 This easy pumpkin soup recipe gives a tasty twist to a seasonal classic. Simple ingredients make this mouthwatering Thai inspired soup your new favorite dish to bring to any holiday occasion (if you decide you actually want to share!). And the best part? It's super easy and perfect for fall. Are you someone who often craves Thai soup, but aren't a huge pumpkin fan? No worries, we've got you covered. Our neighbors at Thai Kitchen (on Burrana Parkway and West Yale Loop) have a delicious variety of authentic soups full of flavors that will satisfy your fall soup cravings! But for those looking to get the most out of pumpkin season, here's what you need for this decadent soup: 
Ingredients:
– 1 tablespoon canola oil
– 4 cups chicken broth (or vegetable broth)
– One 15 oz can of pumpkin puree
– One 14 oz can of unsweetened coconut milk
– 2 tablespoons Thai red curry paste
– Fresh chopped cilantro and red chili flakes (optional)
How to make it:
– In a large saucepan, heat canola oil. Add Thai red curry paste and cook for about one minute.
– Stir in the chicken (or vegetable) broth and pumpkin puree.
– Cook for 3-5 minutes until the soup starts to bubble. Then add the coconut milk and cook for another 3 minutes.
– In a Vitamix or blender, add ginger, garlic, green chili and lemon juice. Then add the mixture from the saucepan. Combine for about 3 to 5 minutes. Add blended contents back into saucepan to warm, then serve!
– Pour into bowls and add fresh cilantro or red chili flakes for additional heat and flavor.
– Enjoy!
Pumpkin and tomato pasta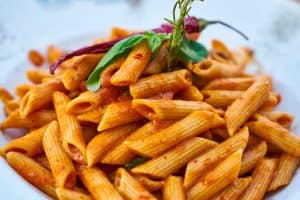 Winter is all about comfort food. Creamy soups and warm hearty meals, and this savory pumpkin and tomato pasta is sure to satisfy your comfort food cravings. The unique mix of pumpkin, sun dried tomatoes and tomato sauce make for a blast of flavor in this pasta dish that is sure to impress your friends and family. Plus, it adds a nice bit of variety to the traditional Thanksgiving spread! And if you'd rather not cook tonight and prefer to go to an Italian restaurant that will make you feel like you've traveled to Italy, Fornaio is less than 10 minutes from Skyloft and has just what you need.

Ingredients:
– 1 tablespoon canola oil
– 1 small onion, chopped
– 2 cloves garlic
– 2 cups chicken broth (or vegetable broth)
– 1 ½ cups pumpkin puree
– 1 can of tomato sauce
– ½ cup half n half
– 1 cup sun dried tomatoes
– 1 box of your favorite pasta noodles
How to make it:
– In a large pot over medium heat, add canola oil, diced onions, sun dried tomatoes and garlic. Saute until fragrant. 
– Next, add the pumpkin puree, tomato sauce and chicken/vegetable broth.
– Simmer for 10-15 minutes, adding water as needed if the sauce begins to thicken too much.
– Transfer the pasta sauce mixture to a blender and puree until smooth.
– Pour the creamy pumpkin sauce back into the pot and add the half n half. Heat for 5-10 minutes adding salt and pepper as desired.
– Add sauce to your preferred pasta noodles and enjoy!
Pumpkin Spice White Russian Cocktail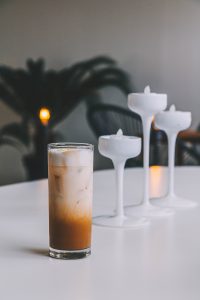 Move over, pumpkin spice latte. It's been a long day and we want something a little stronger than just your typical coffee. This delicious treat packs a nice punch and our favorite blend of fall flavors. When you're too full for pie after Thanksgiving dinner, this cocktail is the perfect pumpkin treat. No worries if mixology isn't your strong suit, Center Hub Bar has cocktails that change with the seasons, and they would love to whip you up something tasty. Be careful though, when you're in the comfort of your home, this easy drinking concoction is sure to have you wanting more! 
Ingredients:
– 2 shots of either regular vodka, or pumpkin pie flavored Pinnacle vodka
– 2 shot glasses of pumpkin spice coffee creamer
– 1 shot Kahlua coffee liqueur 
– Whipped cream and a dash of pumpkin pie spice (for garnish)
How to make it:
– Fill glass with ice. First add the Kahlua, then layer with the vodka and pumpkin spice creamer. 
– Stir. If desired, add whipped cream and a dash of pumpkin pie spice for added sweetness and flavor.
– Enjoy responsibly!
Pumpkin can tend to get a bad reputation during the early holiday season, where some people love it and some think it is overplayed. We say, give these recipes a try and you will have a new appreciation for the flavors that pumpkin can add to some of your favorite dishes! Or, try out some of the local restaurants here in Irvine that have similarly delicious flavors, perfect for the fall season. Tag us on Instagram and Facebook and let us know how your creations turned out, and while you're at it, keep following the blog here for more festive inspiration this holiday season.