In a time where takeout is encouraged, and drive-in movies are making a comeback, we can all agree we are nostalgic for our favorite parts of summer! You may have noticed that summer nights have been a little quieter in Irvine without the sound of the ice cream truck slowly moving through the neighborhoods bringing us our favorite frozen treats. Spend an afternoon recreating your childhood favorites from the comfort of your Skyloft apartment home with our top two ice cream recipes inspired by our favorite ice cream truck orders!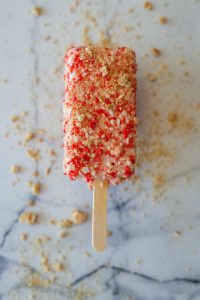 Strawberry Shortcake 
It doesn't take much to recreate this crunchy treat with four simple ingredients you can make your own Strawberry Shortcake ice cream!
Ingredients
1 pint – strawberry ice cream (slightly thawed)
4 – Sugar Cookies
1 tbsp – freeze-dried strawberries (crushed)
1 tbsp – unsalted butter (melted)
Popsicle mold & sticks
Directions
Fill each popsicle mold with Strawberry ice cream, add sticks, and freeze until firm. Take your sugar cookies and blend or crush them until they are fine crumbs, then set half aside. Combine half of the cookie crumbs with strawberries until you reach the desired consistency, then combine with remaining cookie crumbs. Once popsicles are firm, remove them from molds and prepare a baking sheet with parchment paper. Let the popsicles thaw slightly for one minute. Press each one into the mixture until all sides are coated and place them on the prepared baking sheet. Freeze for twenty minutes before serving this delicious dessert!
Drumsticks
Who doesn't love this chocolate-coated classic ice cream treat? Mix up the vanilla ice cream Drumstick with your favorite ice cream or toppings to suit your taste and any dietary requirements you may have!
Ingredients
Ice cream cones
Favorite ice cream
1 ½ cup – chocolate chips (or any chocolate of choice)
½ cup – crushed nuts (or topping of choice)
Directions
Line a baking sheet with parchment paper and set aside. Melt ½ cup of chocolate in a microwave-safe bowl for 30 seconds, remove and stir. Continue melting as needed.
Take melted chocolate and fill the bottom of each cone, slowly rotating to line the inside of each cone with a layer of chocolate. Once the chocolate has cooled, pack each cone with ice cream forming a sphere at the top. Place the finished cones on the parchment paper and place them in the freezer while melting the remaining chocolate. Remove cones, quickly dip into melted chocolate then sprinkle with topping of choice. Once finished, place cones back on parchment paper and freeze for half an hour before enjoying this yummy treat!
Check out these awesome copycat recipes for Choco Tacos and a healthier adult twist on our red, white, and blue favorite Bomb Pops perfect for your next summer barbeque. Take pictures while creating these summer ice cream treats and share them with us on our Facebook or Instagram pages and be sure to keep following the Skyloft Apartments blog here for more ways to enjoy your Orange County Community.