We all love a good Taco Tuesday deal from any of our favorite local Orange County taquerias. This year, Cinco de Mayo falls on Taco Tuesday, and while we may be stuck at home, you can still order online for no-contact delivery or pickup! Take advantage of these incredible holiday specials and show your support of our local Orange County restaurants!
Below is a list of about favorite local Taco Tuesday deals:
Party with Puesto on Tuesday and again on Thursday with their Cinco & Cincoteca En Casa Party Kits! This package includes all the ingredients required for a two-course meal and cocktails, plus celebrity appearances, giveaways and a concert with several artists all on Zoom! Pre-order by May 6th at 12:00 PM, then tune-in at 6:30 PM on May 7th to learn how to prepare your cocktails and meal, and party!
Pre-order your Cinco de Mayo Pack from El Torito Grill to help celebrate your Taco Tuesday holiday from home!. Enjoy a taco tray with 10 soft tacos of your choice of chicken or carnitas, plus chips & salsa, a house margarita pitcher, and a surprise "Cinco Swag" is included in each package. Upgrade to a Cadillac Margarita pitcher for only $5. El Torito Grill's Party Pack feeds 5-7 people and is available for pickup or free delivery!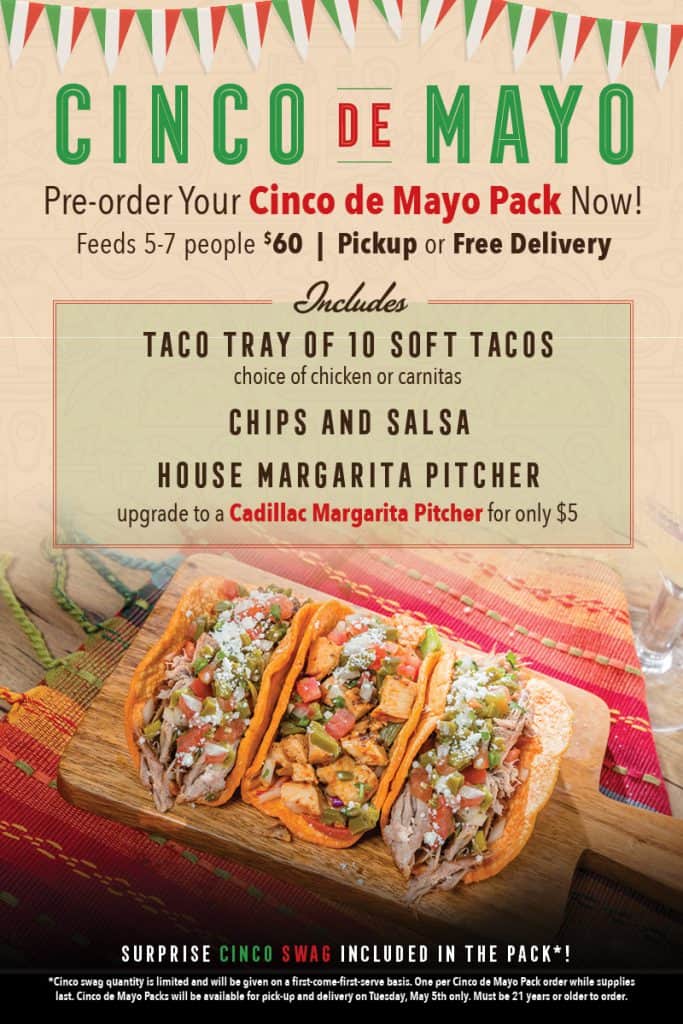 Have your own fiesta with Acapulco Restaurant y Cantina's Cinco Party Packs for Cinco de Mayo! These party packs feed 4-6 people and come with rice, beans, tortillas, chips & salsa, and all your fixings. PLUS FOUR SOMBREROS. Pick your choice of tacos or fajitas and a pitcher of their famous Cadillac Margarita or house margarita, and Acapulco will box it up and deliver it to you for free!

Share your Cinco de Mayo celebrations with us on Facebook or Instagram and be sure to keep following the Skyloft blog here for more posts like this!