Taking a virtual tour is all the rage now that many residential communities have limited or stopped conducting in-person tours altogether due to the COVID-19 pandemic. These virtual tours make it more convenient and safe to view a potential new home, but there's more than just the 360-degree videos. If you're in the market and wondering how to effectively tour an apartment community without ever stepping foot on the property, look no further! We've outlined our guide to touring apartments online during the COVID-19 pandemic.
Location is everything! A good place to start is the Neighborhood or Location page on the community website. If there is no neighborhood map on the site, enter the address into a simple Google Maps search and take a look around. Knowing how close the building is to your everyday errands (i.e. pharmacies, coffee shops, grocery stores, gas stations, airports, entertainment, etc.) can be a deal-breaker when apartment hunting.
Before you're ready to take the plunge into the 3D view, dip your toe in the water and browse through the community's online photo gallery. When you've got a good feel of what the interior looks like, navigate to the floor plans page and find a layout that works for you. Some apartment communities even have promotional videos and e-brochures available to download as a PDF that includes a list of in-home and community amenities.
Now you are ready to dive head-first into a 360-degree virtual tour of your new apartment complex. There are several different virtual tour styles, but you'll find the overall process remains relatively the same. Choose the space you want to view first and use your fingers or mouse to swipe/drag to pan the view. Explore all the floor plan options, from a studio to the penthouse, and the amenity spaces (if available), to ensure you find the perfect layout to call home.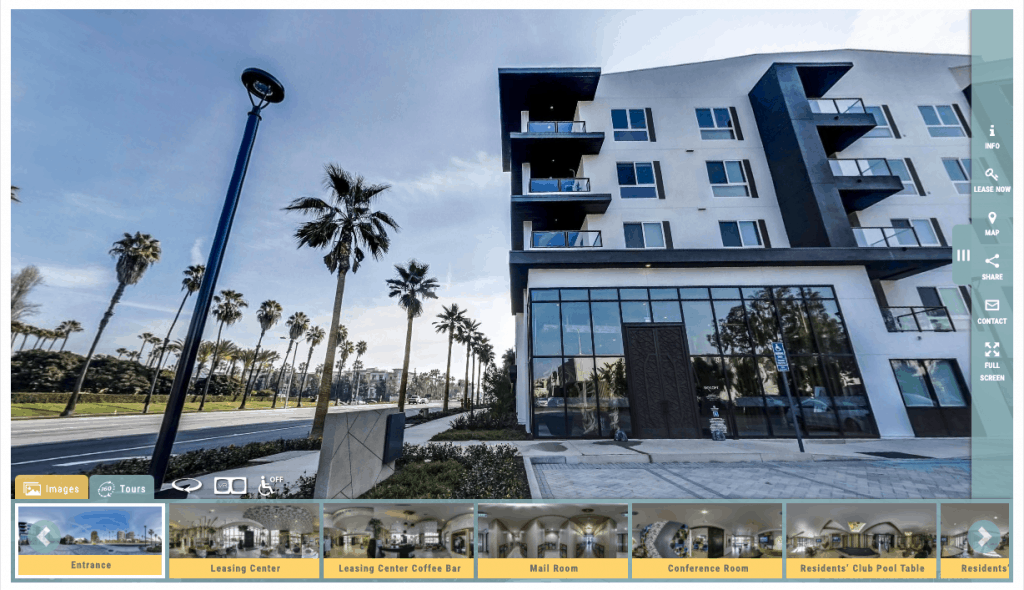 After you've seen it all, contact the leasing team with any questions you may have or need clarification on. If you want to see an available unit from home, see if they can set-up a personal virtual tour over FaceTime or Zoom with one of their leasing professionals. If at this point you've seen it all and have no further questions, then you're ready to fill out an online application!
We also recommend reviewing the community amenity collection for any extra perks you may have missed on the tour! View photos and recommendations on the community's Google My Business page, Yelp profile, and other review sources like Apartments.com. 

Did we miss anything? How would you recommend touring an apartment community online? Share with us on Facebook or Instagram and be sure to keep following the Skyloft blog here for more posts like this!